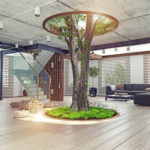 Research shows that the places where we spend
our time have an enormous impact on our physical, cognitive and emotional
health.
According to Delos, a wellness real estate and technology
company that founded the WELL Building Standard, over 90% of our lives are
spent indoors. Since our indoor environment influences almost every aspect of
our lives, from sleep to mood and energy level, it makes sense that if we improve
the environments in which we live, work, sleep and play, we will improve our
overall wellness. But how can you create a healthier home?
Start with a green home. According to a 2017 study by Dodge
Data & Analytics, about
one-third of home builders are currently doing green builds for more than half
of their projects – and the number of builders focusing solely on building
green homes will nearly double by 2022. A green home already incorporates the
latest features to improve wellness. Add indoor plants. Greenery is not just a design feature – it
can improve your health as well. Plants take in carbon dioxide and release
oxygen, and they help regulate humidity. Some studies even show that plants can reduce stress
levels, increase memory retention and filter out volatile organic compounds and
pollutants from the air. Switch from artificial to natural light. Natural light boosts health and wellness.
Studies show it improves productivity, alertness, mood and overall
psychological health. It also is important for our bodies' own circadian
rhythms.For a more comprehensive approach to wellness,
Delos offers the DARWIN Home Wellness Intelligence Network, which uses sensors to passively monitor the
interior of a home, checking air and water quality, thermal and acoustic
comfort and circadian lighting. Darwin pricing starts at approximately $3,500.