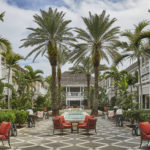 One luxury resort is trying to make travel as simple as possible for its
guests.
The Ocean Club, Bahamas, a Four Seasons Resort, is encouraging guests to travel with only
the bare essentials, leaving the mundane business of packing to others.
This summer, guests can fly to The Ocean Club, located on Paradise Island
in the Bahamas, carrying only a passport by choosing one of three curated
designer wardrobe collections from the resort's boutique, Carlo Milano. Each
package is unique and comprised of designer wear worthy of a stay at a luxe
hotel in the Caribbean. 
The collections start at $15,000 per couple for designer beach and casual
wear. The most-expensive package, called The Jetsetter, includes eveningwear
and accessories, such as a timepiece from the Hublot Bahamas Boutique. The
cost: $100,000 per couple.
Each package includes designer clothing, such as lingerie from La Perla,
sunglasses by Tom Ford, sundresses or trousers from the Saint Laurent Bahamas
Boutique and a plethora of jewelry and accessories.
No Luggage Required at The Ocean Club The Ocean Club has 90 guest rooms, 12 suites and five villas, as well as 35 acres of landscaped gardens, pools and fountains inspired by the gardens of Versailles.